Yikes! It's been one of those weeks where I barely had time to brush my hair, let alone enjoy the blogging world all it has to offer. I still stumble upon some great posts to share with you though.
Maureen
is a blogger from Indonesia. Yes, where my culture and heritage are from, where my parents were born and where my family and my heart live. Can you not already feel the positive vibes this blog has to offer.
Scoops of Joy
promotes wellness, well being and a healthy lifestyle. I LOVE her
love letter to herself
, I may write one too. She also hosts
Wellness Wednesday
which is great for getting over an awful hump day. Head on over and check her blog out. For some reason I could really do with some ice cream right about now!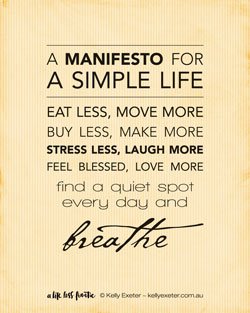 Kelly
is living
A Life Less Frantic
and I could definitely use a bit of that. I have re-read this post so many times on
drowning in life
. That over committed, over worked slump that I feel like I've been carrying myself in. I've had so many AHA! moments when reading
How to Figure Out Your Thing
. Based on personality types, Kelly helps you umm... figure out your thing. The thing that drives you, that helps you, that gives you life. Funnily enough, Kelly and I are both INFJs so our need to help others is huge, and I really do love it when I see others getting themselves sorted out. The image about is from her blog and is such a great manifest to live by. I love coming across great Aussie bloggers!
Nikki
at
Stressy Mummy
shares a great post on
Encouraging Kids to Write
. I have 2 bookworms in the house and I've always seen a connection between reading and writing and I really try and encourage quiet time for them to write, anything! I bought them a set of ink joy pens which come in so many colours and are easy to write with. I also recently bought them little journals and they are filling them up fast. Miss Middle has been writing stories and making books, completely illustrated from the moment she could write.
A short and sweet share this week, because uni has had me held hostage for most of the week. Hopefully the blogging ball will stay in the air.
Step 69,